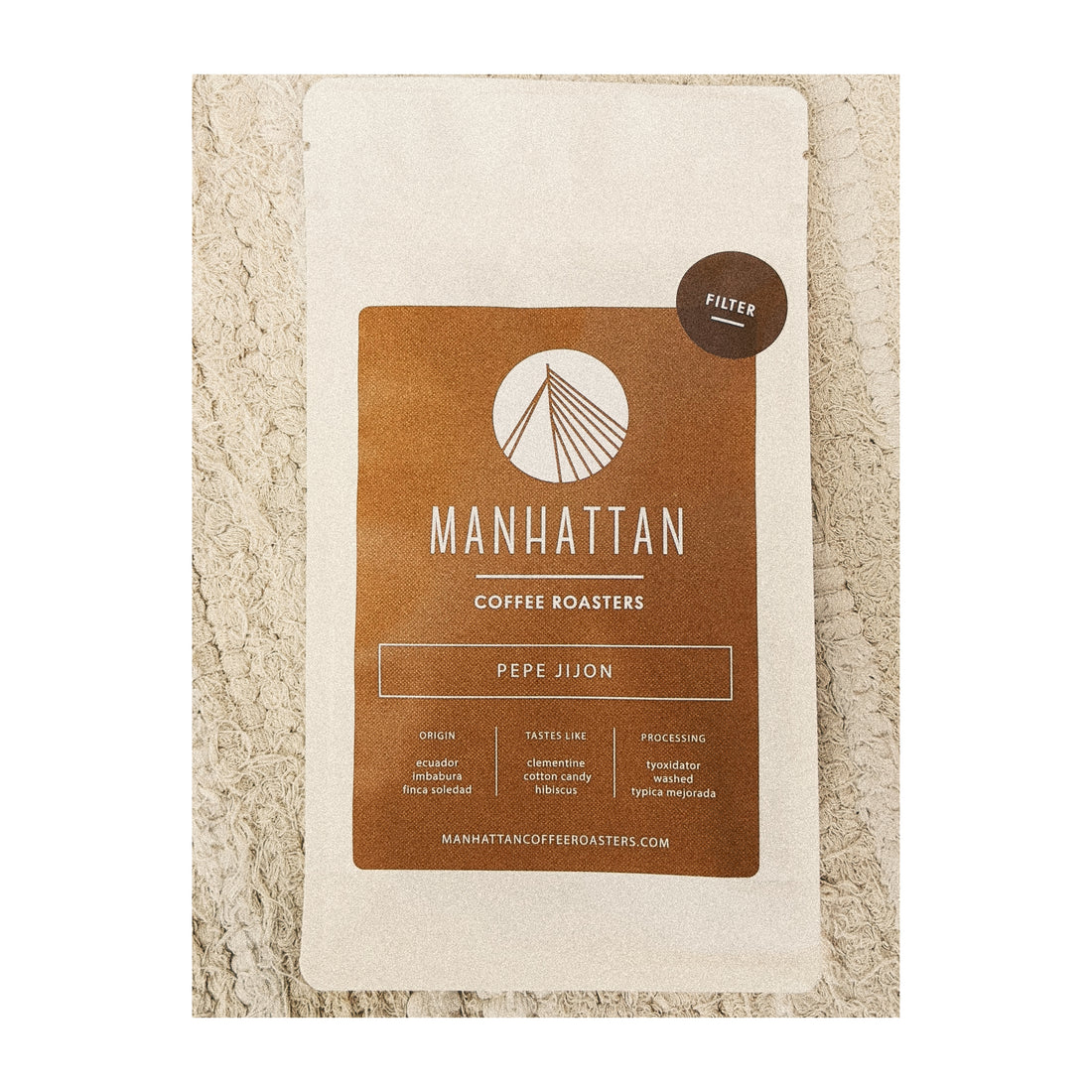 Pepe Jijón - Typica Mejorada | Ecuador (125g)
Origin: Ecuador
Region: intag valley, imbabura
Farm: Finca Soledad
Farmer: Pepe Jijón
Cultivar: Typica Mejorada
Processing: washed, tyoxidator
Altitude : 1515 Masl.
Flavor notes : hibiscus, clementine and cotton candy

We are pleased to be able to sell coffee from Ecuador. And directly one of the legendary Pepe Jijón.

After working as a mountain guide, Pepe set out on a mission to explore the entire world, visiting over 100 countries. What is impressive is that he climbed the seven peaks single-handedly.

After so much travel, he longed for a quiet place of contemplation in a natural piece of land that he would eventually call home, "Intag Valley." On his farm Finca Soledad he grows Typica mejorada, Sydra and Geisha. The farm itself is extremely small for coffee cultivation (about 4 hectares), so we are very lucky to get not only this batch, but also all of Pepe's oxidizer washed coffees.

Typica Mejorada is one of two varieties that were propagated after someone stole some of the genetic material from the Ecuadorian coffee research laboratory. The story goes that of all the seeds taken that day, two were promising, both in terms of production and cup profile. One of them was partially identified as Typica, but with a much more lively and complex profile, from which the name is derived. Global coffee research has identified the Typica Mejorada as an Ethiopian landrace coffee, but it is difficult to quantify whether all of the Mejorada now found in Ecuador is identical to this sample.

The processing method in the TyOxidator is a modification of the washed method. First, the coffee is fermented aerobically outdoors to promote oxidative fermentation. The coffee is then crushed and fermented in its mucilage in a sealed tank for 48 hours before being washed and then dried in both indirect and direct sunlight for 20 days.

Typica Mejorada is a very exciting variety for us and we were extremely impressed with Pepe's work. Expect world-class washed coffee, perfect for any purist.

Expect notes of clementine, cotton candy, and hibiscus.